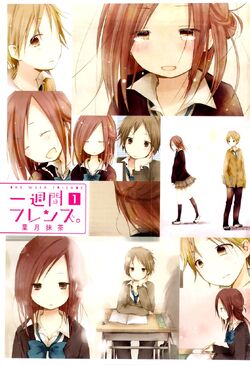 Isshuukan Friends, or One Week Friends is a manga series by Matcha Hazuki. An anime adaptation aired in April 2014.
Yuuki Hase, a boy who wants to become friends with his classmate and desk neighbor Kaori. However, she gently declines his friendship, saying, "But, my... Memories of my friends disappear in a week..." Even so, Yuuki wants to become her friend, and so the two become friends over and over again as the weeks pass.
Volume 6
Volume 7
Volume 7+1
Ad blocker interference detected!
Wikia is a free-to-use site that makes money from advertising. We have a modified experience for viewers using ad blockers

Wikia is not accessible if you've made further modifications. Remove the custom ad blocker rule(s) and the page will load as expected.