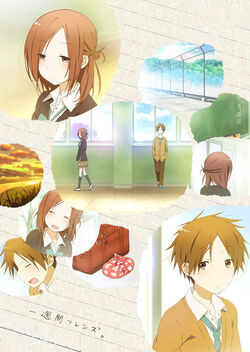 The anime adaptation of Isshuukan Friends aired from April 6, 2014 to June 22, 2014.
High school student Yuuki Hase notices that his classmate, Kaori Fujimiya is always alone and seemingly has no friends. After approaching her, Kaori reveals that she loses every happy memory of the week before each Monday. Despite learning this, Yuuki endeavors to become her new friend every week.
Ad blocker interference detected!
Wikia is a free-to-use site that makes money from advertising. We have a modified experience for viewers using ad blockers

Wikia is not accessible if you've made further modifications. Remove the custom ad blocker rule(s) and the page will load as expected.